Mail Server CPU Load During Sobig.F Virus Mail Flood
Starting at about 6PM local time on August 18, the Sobig.F mail virus started flooding many networks, include the University of Wisconsin Computer Sciences Department.
We are now processing over 100,000 virus mail messages per day, using two mail gateways. We use MailScanner to check mail for viruses.
Mail Gateway CPU Load
These graphs show the CPU load on one of our email gateways. Each email gateway is a 933 MHz Pentium III with 512MB memory, running linux. The increased CPU utilization is due to handling more SMTP transactions, and scanning each message for viruses.

There graphs were made with Cricket. You can also view all the CSL Cricket Graphs.
Daily Graph (staring approx 6pm August 18)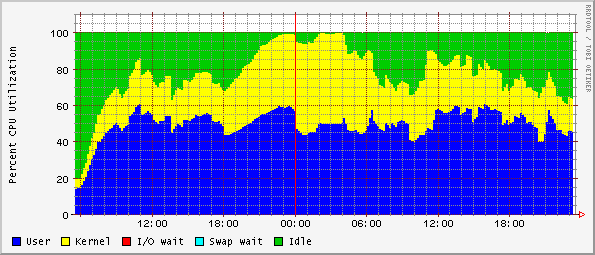 Weekly Graph (Starting August 11)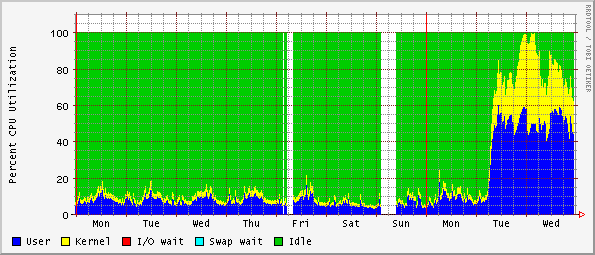 Current Stats
To see the current stats, use the following:
Infected Message Statistics
---
Last modified: Fri Aug 29 16:40:07 2003 by David Parter dparter@cs.wisc.edu