Home
Classwork
Current Research
MSDM
IDM
PITS
SpecPlot
Curriculum-Vitae
Downloads
Fun Stuff
Links
---
Current Research
My current research involves extracting pharmacaphores, which resemble a set of general chemical groups (e.g. hydrophobics, hydrogen donors, etc.) along with their interspatial distances, from biochemically active compounds. This is accomplished using a technique called Inductive Logic Programming(ILP) on a set of pre-determined point-groups that are extracted from the three-dimensional structures of active molecules. Using these point groups with ILP a hypothetical pharmacaphore can be extracted from the molecule that describes the groups and their interspatial distances for an active molecule.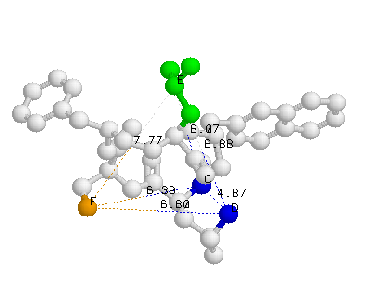 Example of pharmacaphore overlayed with an active molecule.
Green - Hydrophobic group.
Blue - Positively charged group.
Orange - Hydrogen donor group.
---
I am also active in the field of proteomics (see Spring 2003 CIBM Seminar).
My other interests include computational chemistry with macromolecular systems and interface instrumentation.
---
Home
Classwork
Current Research
MSDM
IDM
PITS
SpecPlot
Curriculum-Vitae
Downloads
Fun Stuff
Links
---
Sean McIlwain Last modified: Mon Aug 11 12:38:33 CDT 2003