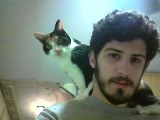 Maxwell D. Collins
I am studying for my PhD in Computer Science at UW-Madison. I work with Professor Vikas Singh. My research focuses on Computer Vision, especially high-level inference tasks like DTI tractography or Segmentation.
Work
Contact
email: "mcollins" at the cs.wisc.edu server (public key)
5765 Medical Science Center
1300 University Ave.
Madison, WI 53706-1510
(directions)
Experimenting on necessity of e-mail obfuscation: mcollins-obfuscation-test@safetymail.info . Started 2010 Jan 17, 10:45am.