What is NACLO?
NACLO stands for the North American Computational Linguistics Olympiad. It is a contest for high-school (and younger) students to solve problems relating to linguistics and computational linguistics. No prior knowledge of linguistics or second languages is required. Students may participate at their high school or at a nearby university site. This year, the University of Wisconsin–Madison will be a local site. The open round of the contest will take place on Thursday, February 4. Well-performing students will be invited to a second round to be held on March 10. The top students in the second round will have a chance to participate in the 8th International Linguistics Olympiad in Uppsala, Sweden. More information about NACLO can be found in the in the UW-Madison press release and at the the official site.
Registration
Participation is free. Students who are interested can register at the NACLO registration site. The UW-Madison site is currently full. If you would like to participate but haven't signed up yet, please email jerryzhucs.wisc.edu or nathanaecs.wisc.edu.
Where is the UW-Madison site?
The UW-Madison site will be located in the chemistry building, room B371. The chemistry building's address is 1101 University Ave, Madison, WI 53706 on the UW campus (map). If you're driving a car, the best place to park is probably lot 17 (map).
When should I arrive?
The contest starts at 9 am sharp and goes until 12 noon on Thursday, February 4. Please arrive early, at about 8:30 am.
Sample questions
Some sample questions for practice are available here.
Local organizers
Please contact us if you have questions:
Jerry Zhu (jerryzhucs.wisc.edu)
Nate Fillmore (nathanaecs.wisc.edu)
Important dates
October 5, 2010 (Monday)
Student registration opens
January 20, 2010 (Wednesday)
Early registration deadline
February 3, 2010 (Wednesday)
Final deadline for registration (12:00 noon EST).
February 4, 2010 (Thursday)
9 AM – 12 noon
NACLO Open Competition (first round)
March 10, 2010 (Wednesday)
NACLO Invitational (second round)

Flyer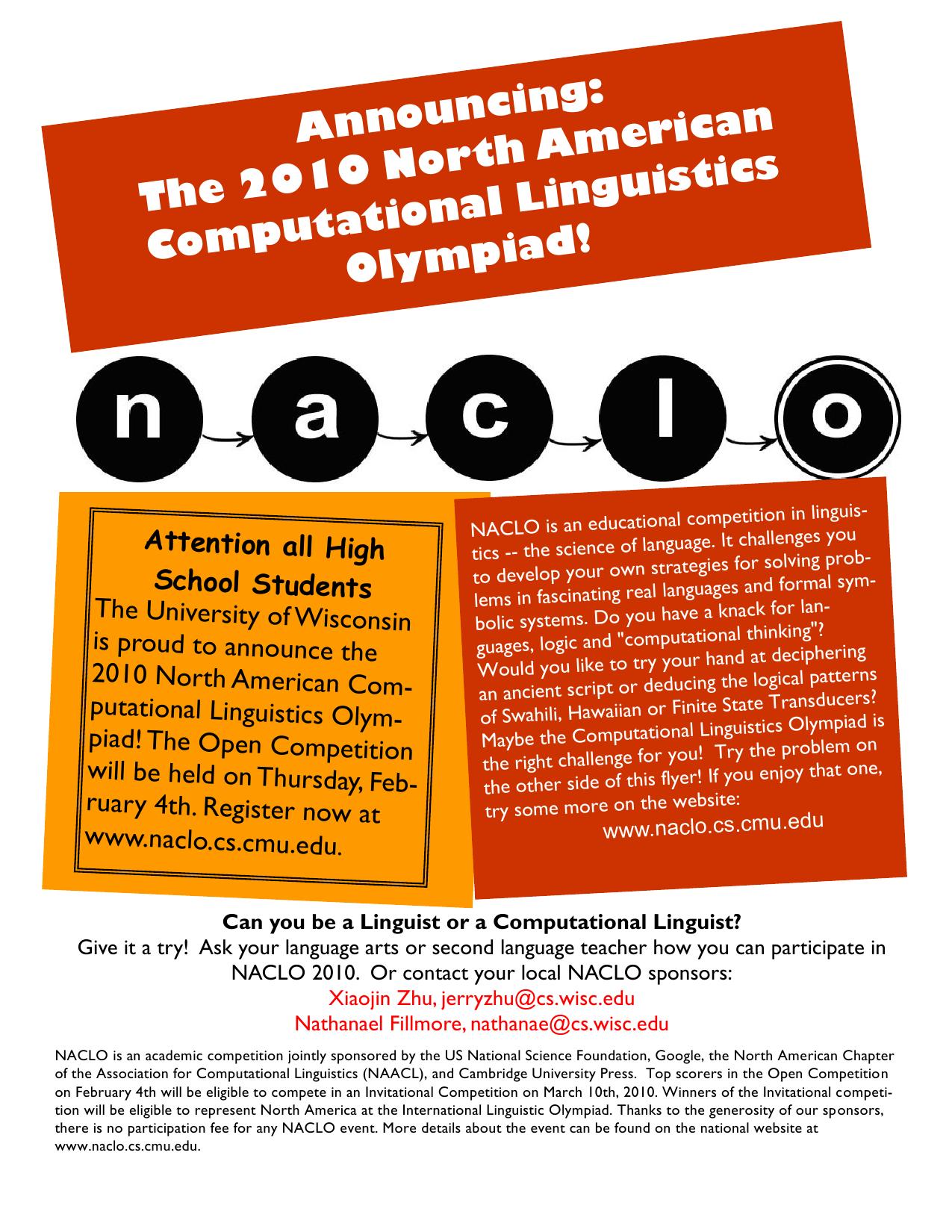 Help us advertise! Put up this flyer in your school.