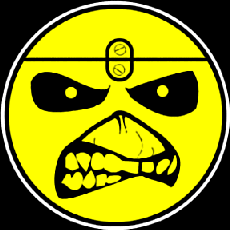 Leading lights of the New Wave Of British Heavy Metal in the late '70s, the band dubbed themselves after the notorious medieval torture device and forged a suitably brazen and powerful sound to justify the name.

With the solid direction provided ostensibly by bassist Steve Harris, they adopted the shock-haired, cadaverous Eddie as band mascot and unleashed their eponymous debut onto a rock scene still trying to absorb the shock of punk. With their modern, aggressive stance and singer Paul Di'Anno's growling style, they soon proved to be more than a match for the musical amateurism of that genre.

It was with a new vocalist, Bruce Dickinson, however, that the band's obvious musical prowess began to lead them progressively upward. With Harris' punchy, galloping bass underpinning the tunes, Dickinson's famed air raid siren voice to the fore and epic songs that covered everything from straightforward horror stories to historical figures such as Alexander The Great, Iron Maiden rapidly became one of the biggest metal acts of the '80s.

Consistently in the singles charts - no mean feat for a rock act - each successive album propelled them still higher. 1982's 'The Number Of The Beast' was their first world class effort, followed by 'Piece Of Mind' and 'Powerslave', until with 'Somewhere In Time' and 1988's 'Seventh Son Of A Son', they were poised to leap into the rarefied atmosphere of rock's superleague.

Then the inevitable happened. First, valued songwriter Adrian Smith left and then Dickinson. With guitarist Janick Gers and vocalist Blaze Bayley in their stead, the '90s were successful, but didn't match the unique world-conquering momentum they had mustered ten years earlier. Nevertheless, by the late '90s, yet another personnel change resulted in both Smith and Dickinson being reinstated to create a unique triple guitar attack and a stomping new album, 'Brave New World'.