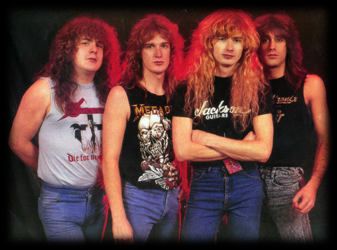 Having been unceremoniously booted out of Metallica just as they were on the verge of breaking through with their first album, guitarist Dave Mustaine became a man driven by the urgent need to be successful - just to show his former bandmates that he could do anything they could, only better.

With the burgeoning thrash scene forming the perfect backdrop, Megadeth's career began to parallel that of Metallica's as Mustaine put his previous songwriting experience to good use and came up with the chirpily titled 'Killing Is My Business And Business Is Good'. The sound was rough, but with 1986's 'Peace Sells But Who's Buying', that glitch was ironed out and the chunky, speedy, technical style of riffing Megadeth would become known for was born. 1988's 'So Far So Good So What?' brought in yet more line-up changes as Mustaine kept toying with the make-up of the band.

The '90s incarnation of the band saw them slowing the pace somewhat and with the addition of guitar virtuoso Marty Friedman, the quality of the writing became more melodic and considered, though Mustaine was as reliably pessimistic as before, dealing with a range of heavy topics such as environmental catastrophe and nuclear extinction. With 1999's 'Risk', however, Mustaine led the band into almost melodic rock territory. The result of this unexpected shift in direction has yet to be determined.

Check out newz, updates, lyrics, discography and other stuff @ www.megadeth.com.