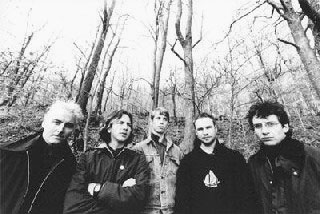 Not many bands can claim to being formed as a result of a serious accident and Seattle's Pearl Jam probably come closest to this unlikely scenario. The accident in question was the unfortunate demise of Mother Love Bone singer Andrew Wood. His long-time friend Soundgarden's Chris Cornell put together a tribute project called Temple Of The Dog, during which time the various members of the would-be Pearl Jam got roped in to perform their parts.

With the TOTD project in the can it seemed natural for the various members - including Eddie Vedder (vocals), Stone Gossard (guitar), Mike McCready (guitar) and Jeff Ament (bass) - to continue playing while Chris Cornell returned to Soundgarden. The result was the birth of a modern rock phenomenon. The grunge wave was just peaking at the time and Pearl Jam's troubled lyrics fitted in well with grunge's complaining punk vibe. The music was, however, more akin to rock of the old school bringing to mind the firey guitar work of such musical giants as Jimi Hendrix. 1992's 'Ten' was a massive hit, giving the band a number of MTV supported singles, and follow-ups 'Vs' and 'Vitalogy' introduced more than a hint of punk anger. This was doubtless the period that gave the band their best loved songs, as they took on the corporate might of the Ticketmaster booking agency and indulged their every creative whim with a series of diverse side projects roping in the likes of Neil Young (for 'Mirror Ball') along the way.

More recently their star status has allowed Pearl Jam to release albums with less frequency and their output, while always intriguing, has never quite matched the melodic accessibility and passion of their early work.