When I need to find an old discussion from the Borland newsgroups, I use a Firefox search plug-in. I adapted the plug-in from the regular Google Groups plug-in available from Mycroft to create the one linked below.
To search, I choose the "Delphi Groups" item from the menu, as shown below, and then type my query and press enter. The key to the search is that it automatically limits the search to newsgroups with names that match the pattern "*delphi*."
Figure 1
Choosing the "Delphi Groups" search plug-in in Firefox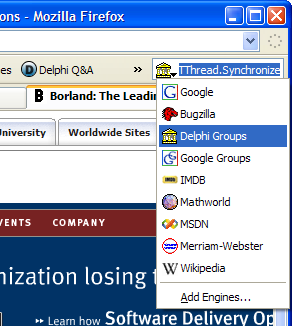 Installation
To use this plug-in, download the file and unzip it. There should be two files, ddgroups.src and ddgroups.png. Put them in your Firefox search-plug-in folder. On my computer, that is in %UserProfile%\Application Data\Mozilla\…\searchplugins. Once the files are there, restart Firefox.