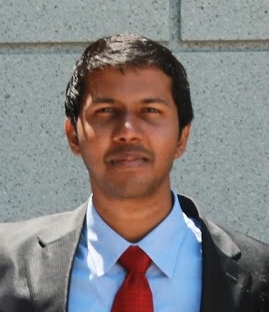 Ram Durairajan is a graduate student in the Department of Computer Sciences at the University of Wisconsin-Madison, where he received the M.S. degree in 2014, and is currently pursuing the Ph.D. degree. Before joining UW-Madison, Ram earned his B.Tech. in Information Technology from the College of Engineering, Guindy (CEG), Anna University in 2010.

RESEARCH
Ram is currently a research assistant and a member of Wisconsin Advanced Internet Laboratory (WAIL), where he is advised by Prof. Paul Barford. Ram is also part of the Wisconsin Institute on Software-defined Datacenters Of Madison (WISDOM). Ram's research vision is to create a "robust Internet" by understanding the Internet's structure and behavior through principled measurements. To that end, in his thesis work, Ram is developing frameworks for (i) measuring and analyzing the topological structure of the Internet, (ii) measuring and understanding end-to-end path dynamics, and (iii) designing scalable, robust and easy-to-deploy systems to mitigate network risks and outages.
Broadly speaking, Ram has addressed research questions in several areas of computer networking including network measurements and analysis, network economics, large-scale network simulations, debugging and testing in software-defined networks, mobile and wireless communication, Internet of things, visualization and security, and datacenter transport protocols.
Some of Ram's thesis-related projects include:
Unravelling Internet's Structural Complexity: [InterTubes -- SIGCOMM'15], [POPsicle -- IMC'14], [Internet Atlas -- HotPlanet'13]
Understanding Risks and Dynamics in the Internet: [TimeWeaver], [Time's Forgotten -- HotNets'15], [RiskRoute -- CoNEXT'13]
Decision Support for Improving Robustness: [GreyFiber], [Techno-Economic Framework -- GAIA'16]
Other recent projects
: [MNTP --
IMC'16
], [Bigfoot --
VizSec'16
], [OFf --
CoNEXT'14
], [pfs --
SummerSim'15
], [ATCP --
IWQoS'13
]
PUBLICATIONS
2016
MNTP: Enhancing Time Synchronization for Mobile Devices
Sathiya Kumaran Mani, Ramakrishnan Durairajan, Paul Barford and Joel Sommers
In Proceedings of ACM IMC'16, Santa Monica, CA, USA, November 2016.
[PAPER]


Bigfoot: A Geo-based Visualization Methodology for Detecting BGP Threats
Meenakshi Syamkumar, Ramakrishnan Durairajan and Paul Barford
In Proceedings of IEEE VizSec'16, Baltimore, MD, USA, October 2016.
[PAPER]


A Techno-Economic Framework for Broadband Deployment in Underserved Areas
Ramakrishnan Durairajan and Paul Barford
In proceedings of ACM GAIA Workshop (ACM GAIA'16)
co-located with ACM SIGCOMM'16, Florianopolis, Brazil, August 2016.
[PAPER] &nbsp &nbsp [SLIDES] &nbsp &nbsp
Best Paper Nomination to ACM SIGCOMM CCR
2015
Time's Forgotten: Using NTP to Understand Internet Latency
Ramakrishnan Durairajan, Sathiya Kumaran Mani, Joel Sommers and Paul Barford
In Proceedings of ACM HotNets'15, Philadelphia, PA, USA, November 2015.
[PAPER] &nbsp &nbsp [PROJECT WEBSITE] &nbsp &nbsp [SLIDES] &nbsp &nbsp


InterTubes: A Study of the US Long-haul Fiber-optic Infrastructure
Ramakrishnan Durairajan, Paul Barford, Joel Sommers and Walter Willinger
In Proceedings of ACM SIGCOMM'15, London, UK, August 2015.
[PAPER] &nbsp &nbsp
Coverage: MIT Technology Review, Popular Science, Gizmodo, TechRepublic, VoA, NYTimes, Boston Globe, Badger Herald, Business Insider, Mashable

pfs: Parallelized, Flow-based Network Simulation
Mukta Gupta, Ramakrishnan Durairajan, Meenakshi Syamkumar, Paul Barford and Joel Sommers
In Proceedings of ACM SummerSim'15, Chicago, IL, USA, July 2015.
[PAPER] &nbsp &nbsp

2014
Controller-agnostic SDN Debugging
Ramakrishnan Durairajan, Joel Sommers and Paul Barford
In Proceedings of ACM CoNEXT'14, Sydney, Australia, December 2014.
[PAPER] &nbsp &nbsp [SLIDES] &nbsp &nbsp
Best Short Paper Award


Layer 1-Informed Internet Topology Measurement
Ramakrishnan Durairajan, Joel Sommers and Paul Barford
In Proceedings of ACM IMC'14, Vancouver, Canada, November 2014.
[PAPER] &nbsp &nbsp [SLIDES] &nbsp &nbsp


OFf: Bugspray for Openflow (Extended Abstract)
Ramakrishnan Durairajan, Joel Sommers and Paul Barford
In Proceedings of ACM HotSDN Workshop (ACM HotSDN'14)
co-located with ACM SIGCOMM'14, Chicago, IL, USA, August 2014.
[PAPER] &nbsp &nbsp [POSTER] &nbsp &nbsp

2013
RiskRoute: A Framework for Mitigating Network Outage Threats
Brian Eriksson, Ramakrishnan Durairajan and Paul Barford
In Proceedings of ACM CoNEXT'13, Santa Barbara, CA, USA, December 2013.
[PAPER] &nbsp &nbsp [SLIDES] &nbsp &nbsp


Internet Atlas: A Geographic Database of the Internet
Ramakrishnan Durairajan, Subhadip Ghosh, Xin Tang, Paul Barford and Brian Eriksson
In proceedings of 5th ACM HotPlanet Workshop (ACM HotPlanet'13)
co-located with ACM SIGCOMM'13, Hong Kong, August 2013.
[PAPER] &nbsp &nbsp [PROJECT WEBSITE] &nbsp &nbsp [SLIDES] &nbsp &nbsp
Coverage: New Scientist, Technology.org
Discovery Challenge Research Award


Adaptive Data Transmission in the Cloud
Wenfei Wu, Yizheng Chen, Ramakrishnan Durairajan, Dongchan Kim, Ashok Anand and Aditya Akella
In Proceedings of IEEE/ACM IWQoS'13, Montreal, Canada, June 2013.
[PAPER] &nbsp &nbsp [TECH REPORT] &nbsp &nbsp

---
Department of Computer Sciences
1210, W. Dayton St.,
Madison, WI - 53715.
rkr...@cs.wisc.edu

Last Modified: September 2016