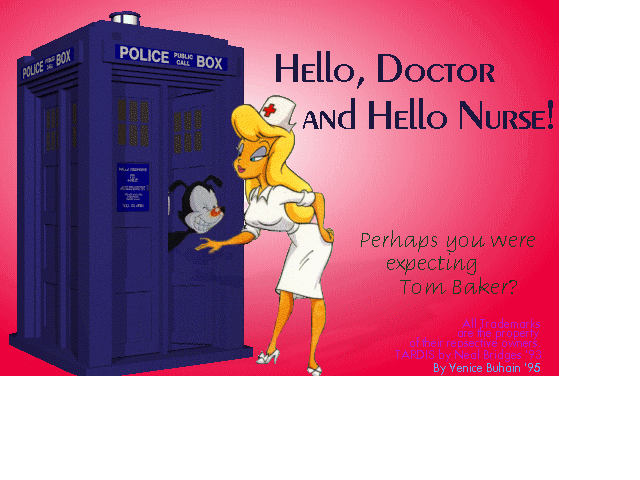 Television stuff:
Channel 15, Madison's NBC affiliate
Channel 6, Milwaukee's, or Channel 47, Madison's FOX affiliate
Channel 3, Madison's affiliate that also carries a lot of UPN programming. They also air the reruns of Cheers. As long as we're on that subject, you can also visit the "Real Beer Page" whatever that means. Or if you want something more local (i.e. to me) try the Miller Genuine Draft Tap Room. I really do live down the street from these guys. Don't believe me? Think I had a few too many Pan Galactic Gargle Blasters? Just remember, if you're too drunk to drive, just have something delivered. If you can't even drive yet, then you might like...
My Star Trek page
Can't get that theme out of your head? Could it be the from Battlestar Galactica or Buck Rogers? Or THE longest running (non-news) show on the planet: formerly BBC's, and now hopfully FOX's Dr. Who! Join in the fight to save the Doctor, enter the vortex, or even build the Key to Time? If you want the latest news, go to the Semi-official site.
Or blast off on The Satellite of Love
How about the top ten:

Music stuff has its own page...
My way out of date (probably) movie page
Fun and games
---

Wakko   :(On TV)Now my butt hurts...!
Butthead:He said "butt"
Beavis  :Yeah, he said--
Yakko   :Hellooooo Nurse!
B&B	:Whoa!
Butthead:She's got big thingys!
Beavis	:Look at them, Butthead! They're huge!
Butthead:These guys are cool.
Y,W&D	:Boingy, boingy, boingy!
Beavis	:Yeah...Boooinggggg!

To be continued in AnimaniaX....

---
Back to the wormhole