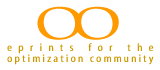 Optimization Online



Mathematical Optimization Society





Research Interests

Numerical optimization, especially problems involving real (as opposed to integer or discrete) variables. I'm interested in the theory, algorithms, and implementations, and in applications of all types.



Hiring!
Several postdoctoral research positions are available at the University of Wisconsin Computer Sciences Department and the Wisconsin Institute for Discovery to work on funded projects involving nonconvex optimization, parallel/distributed optimization, and other optimization paradigms and algorithms that are motivated by data science applications.
Prior experience in developing optimization theory and algorithms is required. Experience with data science applications is desirable.
Positions are available from the present time until August 31, 2019, with a possible extension of one year.
If interested, please send me your CV (swright AT cs.wisc.edu) together with a description of relevant prior work and the names of several references.



Positions


Research Projects


Teaching

Current:


CS726: Nonlinear Optimization I (Spring 2018)
Next:


CS524: Introduction to Optimization (UW, Fall 2018)
Previously taught:


CS635: Tools and Environments for Optimization (UW, Spring 2006)


CS416: Introduction to Scientific Computing (UW, Spring 2007)


CS726: Nonlinear Optimization I (UW, Fall 2013)


CS525: Linear Programming (UW, Fall 2015)


CS730: Nonlinear Optimization II (Spring 2016)

Publications


Links