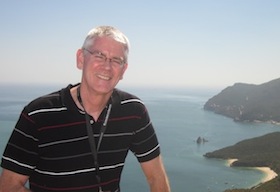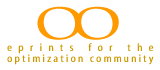 Optimization Online



Mathematical Optimization Society





Research Summary

Numerical optimization, especially problems involving real (as opposed to integer or discrete) variables. I'm interested in the theory, algorithms, and implementations, and in applications of all types.
THIS PAGE IS NO LONGER MAINTAINED - PLEASE GO TO MY NEW SITE HERE.



Positions


Professor in the Computer Sciences Departmentat UW-Madison.


Member of the Optimization Theme in the Wisconsin Institute for Discovery at UW-Madison.


Past Chair of the Mathematical Optimization Society (formerly Mathematical Programming Society).


SIAM Fellow and Member of the Board of Trustees of SIAM.


Research Projects


Algorithms for nonlinear optimization


Applications of optimization to signal and image processing, process control, computational statistics, computational biology, cancer radiotherapy, weather forecasting, and other areas.


Optimization software: PCx (linear programming), OOQP (convex quadratic programming).


Compressed sensing software: GPSR, SpaRSA. Also GPU codes for signal and image processing, and TV denoising software, and the LPS code for regularized logistic regression.


Member of Texas-Wisconsin-California Control Consortium: Process Control and Optimization.



Teaching

Current:


SABBATICAL (yeah, baby!!)
Next:


??? (UW,Fall, 2012)
Previously taught:


CS635: Tools and Environments for Optimization (UW, Spring 2006)


CS416: Introduction to Scientific Computing (UW, Spring 2007)


CS726: Nonlinear Optimization I (UW, Fall 2008)


CS525: Linear Programming (UW, Fall 2010)


CS730: Nonlinear Optimization II (UW, Spring 2011)


Publications


Technical reports, papers, and talks


Primal-Dual Interior-Point Methods, published by SIAM in 1997 (see a somewhat dated list of corrections).


Numerical Optimization, Second edition, with Jorge Nocedal, was published in August 2006. Here is a list of typos. You can buy it here and here, for example.


Linear Programming with MATLAB, with Michael Ferris and Olvi Mangasarian, published by SIAM in 2007. See also this page of Matlab programs discussed in the book.

Links


Video of NIPS Tutorial: 6 Dec 2010.


MW and the earlier metaNEOS project: Grid Computing and Optimization


Computational Science Lecture Series at UW-Madison.


Committee on Optimization and Applications (COPTA) at UW-Madison.


NEOS Server, and NEOS Guide / Wiki, recently moved to the Wisconsin Institutes for Discovery after many successful years at Argonne National Lab.


Optimization Online, the latest and greatest eprints on optimization (be sure to post your finest work!)


Interior-Point Methods Online, an older archive of interior-point papers and stuff


Mathematical Optimization Society and SIAM Activity Group on Optimization


GPSR: Gradient Projection for Sparse Reconstruction and SpaRSA: Sparse Reconstruction by Separable Approximation. We also have a GPU implementation of SpaRSA.


TV Denoising Software


Sampling methods for Stochastic Programming


My Dad's consulting outfit: PGW ProSuTech


Current Madison weather and Madison Forecast obtained from the UW-Madison Real-Time MM5 Forecast page


Scene from Madison: Lake Mendota webcam


New York Times and Financial Times. Also Madison's Capital Times


The Daily Kos and Paul Krugman's blog


The Onion and Doonesbury