Project 2: Panoramic Mosaic Stitching
CS 766 - Fall 2009
Faisal Khan, Varghese Mathew
| | |
| --- | --- |
| Source File | Explanation |
| load_images.m | Loads all images in a given directory. |
| cylinder_projection.m | Projects an image onto cylindrical coordinates. |
| model_homography.m | Computes the homography between two images using SIFT. |
| sift | The SIFT executable from the SIFT Program. |
| sift.m | Modified version of Matlab SIFT. |
| sift_matcher.m | Our code that does feature matching using SIFT features. Based on match.c in SIFT package. |
| stich.m | Given two images and the homography between the, this code stitches them together using the feathering blending method. |
| run.m | This is the core module. This code takes a set of images, and an array of pairwise homographies, and creates the panorama from them. It can create both partial and complete (full 360 degree) panoramas. |
| run_normal.m | This is a wrapper over run.m. This code take a directory as argument, loads all the images in the directory, rotates them as specified, computes pairwise homographies and then calls run to create the complete panorama. |
| run_hdr.m | This code is aimed towards creating high dynamic range panoramas. This takes a list of directories, and a key directory as argument. For creating HDR panorama, all constituent panoramas at different exposures should be stitched together using the same homographies. So we compute homography using the images in the key directory and then use that homography to create panoramas for images in each of the given directories in the list. |
Implementation details
Step1: Images
We captured 18 images each for 3 full view (360 degree) panoramas
We also captured 10 images for one vertical partial panorama of a building.
We tried to capture 11 (different exposures) * 18 images for an HDR panorama. However, fully charged batteries only last for 11 x 13 images on the given camera model. Therefore we could only gather 11 x 13 images for a partial HDR panorama.
We captured all images in Manual mode, fixing all tunable parameters to reduce vignetting.
Equipment used and parameters:
We captured one of the panoramas with "Canon SX100 IS, tag 6418204024". However, the Kaidan head provided with it was causing a huge Y-drift. So we had to get that replaced. (Still in the extra time we were given, we coded up a complete shear algorithm which recovered the panorama from this image set.
We captured the rest of the images with "Canon SX100 IS, tag 6418203978".
Step2: Warping each image into cylindrical coordinates.
For this, we take each point (x,y) on the cylindrical surface, and compute the inverse transform using the formulae discussed in the class to get (x', y') which is the coordinate on the source image. Now we copy pixel (x', y') of source image onto pixel (x,y) on target cylindrical image.
The

advantage

of doing it this way is that, we ensure that every pixel on the cylinder surface get assigned a value.
We also incorporate the lens distortion model into our cylindrical projection code, to remove all distortions.
Step3: Computing the alignment of images in pairs.
We use SIFT to get us a list of key points.
Then we use the match algorithm to get potential matches. We model our match algorithm based on the match.c code provided with SIFT program.
After the match, we evaluate the best fitting homography using RANSAC algorithm iterating 1 to 100.
We also note that the shear in Y direction is given by the ratio of the cumulative homography translation along Y direction to that along the X direction.
Step4: Stitching and cropping the images
Step4.5 (bonus): Shearing.
Often we notice that the images have a shear in the Y direction (due to bad kaidan heads). We incorporate a shearing algorithm to

completely

remove this effect.
This step is done between Stitching and cropping of the images.
Step5: Configuring the viewer
We basically followed the instructions provided.
Results
Lathrop Hall Garden (this is our preferred image)
Indoors: CS department Conference room 4310
Note that we captured the images such that we figure
in multiple locations in this panorama !!! :D
test image panorama
Before cropping


After cropping



Bonus Points:
Bonus1: HDR Panorama (partial because battery died).

The final HDR Image



The different panoramas at different exposures












Bonus2: Vertical Panorama
Here, we apply the panorama technique to stitch multiple images in the vertical direction to create a wide angle vertical image.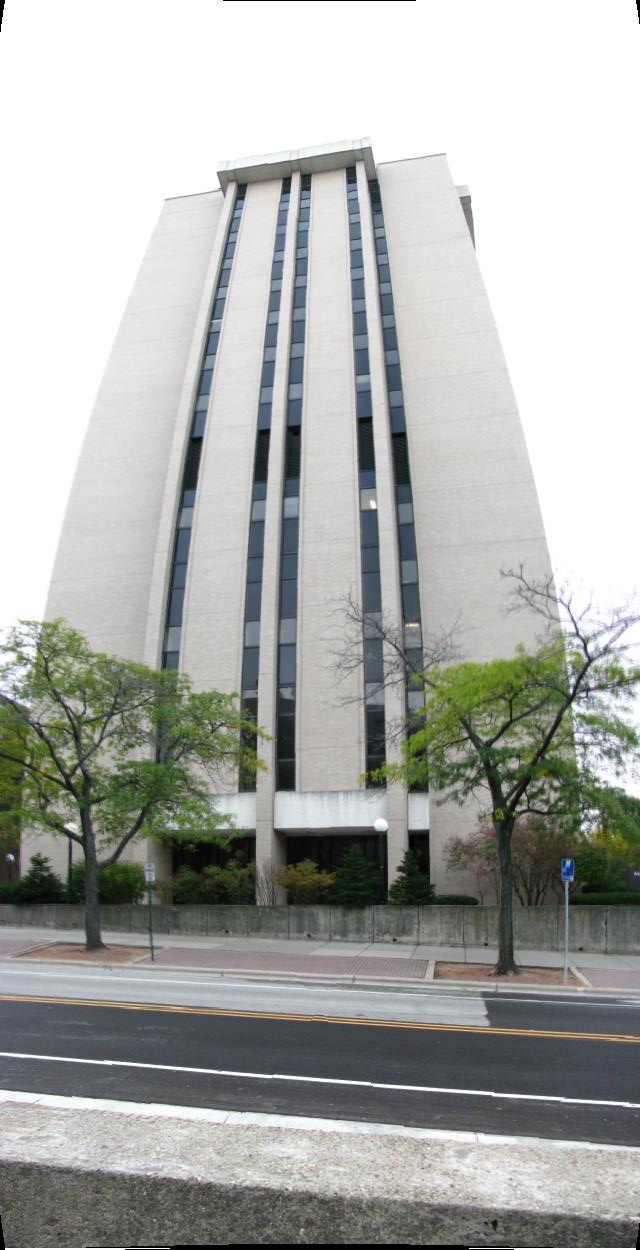 Bonus3: Correcting Shear - Eagle Heights Garden
In this pictures, the shear in Y direction and
our success at correcting it
using our
bonus
shear algorithm is distinctly visible.