Young-Bum Kim
This page is out-of-date. Please visit my new homepage at Microsoft:
http://research.microsoft.com/en-us/people/ybkim/default.aspx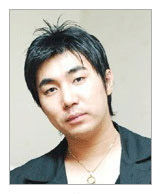 Known colloquially as YB, I am a Ph.D. student in the
Department of Computer Sciences.
at the
University of Wisconsin-Madison
I work on the development of multilingual Natural Language Processing techniques and systems with my advisor Professor Benjamin Snyder.
My research aims to tackle longstanding problems in NLP, including morphological induction, grapheme-to-phoneme prediction, and computational decipherment of lost languages, in a novel framework: cross-lingual supervision, where a single unlabeled language serves as test data, and a large set of labeled languages serve as training data. The key idea is that by jointly modeling a broad array of languages, apparent ambiguities can be resolved by building generic and universally plausible models of human language.
Selected Publications
Young-Bum Kim, Karl Stratos, Ruhi Sarikaya, and Minwoo Jeong, "New Transfer Learning Techniques For Disparate Label Sets," Proceedings of Annual Meeting of the Association for Computational Linguistics: Human Language Technologies (ACL), 2015.



---

Young-Bum Kim, Karl Stratos and Ruhi Sarikaya, "Pre-training of Hidden-Unit CRFs," Proceedings of Annual Meeting of the Association for Computational Linguistics: Human Language Technologies (ACL), 2015.



---

Young-Bum Kim, Karl Stratos, Xiaohu Liu, and Ruhi Sarikaya, "Compact Lexicon Selection with Spectral Methods," Proceedings of Annual Meeting of the Association for Computational Linguistics: Human Language Technologies (ACL), 2015.



---

Young-Bum Kim, Minwoo Jeong, Karl Stratos, and Ruhi Sarikaya, "Weakly Supervised Slot Tagging with Partially Labeled Sequences from Web Search Click Logs," Proceedings of the Conference on the North American Chapter of the Association for Computational Linguistics - Human Language Technologies (NAACL HLT), 2015.



---

Young-Bum Kim, Heemoon Chae, Benjamin Snyder and Yu-Seop Kim, "Training a Korean SRL System with Rich Morphological Features," Proceedings of Annual Meeting of the Association for Computational Linguistics: Human Language Technologies (ACL), 2014.



Download

---

Tasos Anastasakos, Young-Bum Kim and Anoop Deoras, "Task specific continuous word representations for mono and multi-lingual spoken language understanding," In Proceedings of the IEEE InternationalConference on Acoustics, Speech, and Signal Processing (ICASSP), 2014.



Download

---

Young-Bum Kim and Benjamin Snyder, "Unsupervised Consonant-Vowel Predictions over Hundreds of Languages," Proceedings of Annual Meeting of the Association for Computational Linguistics: Human Language Technologies (ACL), 2013.



Download

&nbsp

Talk

&nbsp

Data

---

Young-Bum Kim and Benjamin Snyder, "Optimal Data Set Selection: An Application to Grapheme-to- Phoneme Conversion," Proceedings of the Conference on the North American Chapter of the Association for Computational Linguistics - Human Language Technologies (NAACL HLT), 2013.



Download

---

Young-Bum Kim and Benjamin Snyder, "Universal Grapheme to Phoneme Prediction over Latin Alphabets," Proceedings of the Conference on Empirical Methods in Natural Language Processing (EMNLP), 2012.



Download

&nbsp

Data

---

Young-Bum Kim, Joao Graca, and Benjamin Snyder, "Universal Morphological Analysis using Structured Nearest Neighbor Prediction," Proceedings of the Conference on Empirical Methods in Natural Language Processing (EMNLP), 2011. presented in plenary session (acceptance rate 1.6%), financial award sponsered by Google.



Download

&nbsp

Talk

---
Publications
Young-Bum Kim, Young-Jo Kim and Yu-Seop Kim, "Sentence Difficulty Analysis with Local Feature Space and Global Distributional Difference," Proceedings of International Conference on Convergence and Hybrid Information Technology (ICHIT), 2012. (CCIS 0310)



Download

---

Young-Bum Kim, Jung-Kuk Lee and Yu-Seop Kim, "A Multi-Phase Semi-Supersense Tagging of Korean Unknown Nouns," Proceedings of International Conference on Convergence and Hybrid Information Technology (ICHIT), 2012. (LNCS 7425)



Download

---

Young-Bum Kim, Yu-Seop Kim, "An autonomous Assessment System based on Combined Semantic Kernels," Expert System with Applications, Voleme 37, Issue 4, pp.3219-3228, 2010.



Download

---

Young-Bum Kim, Yu-Seop Kim, "Latent Semantic Kernels for WordNet: Transforming a Tree-like Structure into a Matrix," Proceedings of International Conference on Advanced Language Processing and Web Information Technology (ALPIT), 2008.



Download

---

Young-Bum Kim, Seung-Hoon Han, Sun-Jeong Kim, Chang Geun Song "Multiple-Player Virtual Ping-Pong Game," Proceedings of International Conference on Artificial Reality and Telexistence (ICAT), 2007.



Download

---

Young-Bum Kim, Min-Sub Shim, Chang Geun Song, Yu-Seop Kim "A First Person Shooter with Dual Guns Using Multiple Optical Air Mouse Devices," Proceedings of International Conference on Artificial Reality and Telexistence (ICAT), 2007.



Download

---

Unjoo Lee, Seung Hoon Han, Young-Bum Kim, Han Sup Kim, Hyun Gi Jung, Hyunjoo Lee, Daehwan Kim, Yiran Lang, Meiyin Jin, Jungwha Song, Sungho Song, Changgeun Song, Hyunsook Nam, Heung-Myung Woo, Dongwan Kim, Seun-Hwa Beack, and Hyung-Cheul Shin, "Development of Internet games playable by human and animal through a brain-computer interface system", Proceedings of AFLAS Congress(Poster), 2006. (The Best Poster Award)



Download

---

Unjoo Lee, Seung Hoon Han, Han Sup Kim, Young-Bum Kim, Hyun Gi Jung, Hun-joo Lee, Yiran Lang, Daehwan Kim, Meiying Jin, Jungwha Song, Sungho Song, Chang Geun Song, and Hyung-Cheul Shin, "Development of a Neuron Based Internet Game Driven by a Brain-Computer Interface System," Proceedings of International Conference on Hybrid Information (ICHIT), 2006. (IEEE-CS)



Download

---