Workshop on Internet Server Performance
to be held in conjunction with
Madison, Wisconsin, USA. June 23, 1998.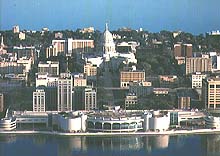 Madison, Wisconsin (by Don Kerkhof)
NEW: here is WISP99!
Today, Web servers are not simple HTTP servers. A typical Internet site employs a web server complex, which may include HTTP servers, database servers, transaction servers, multimedia servers, advertisement servers and proxy servers. The performance of the server system as a whole depends not only on individual server performance, but also the protocols and interactions between servers. This workshop seeks to bring together researchers and developers from systems, databases, networking, multimedia and other disciplines to discuss the wide range of issues that impact server performance on the Internet.
The workshop includes invited presentations and selected position papers solicited through this call for papers. For a copy of preliminary program, click here.
UPDATE: Click here for LaTex style files for PER.
Information for Authors of Accepted Papers. Update: Final version of the paper due May 18th, 1998.
Workshop Co-Chairs:

Pei Cao                             Sekhar Sarukkai
1210 West Dayton Street             1U13, Hewlett Packard Labs,
U. of Wisconsin, Madison            1501 Page Mill Road,
WI 53706-1685		            CA 94304-1126
email: cao@cs.wisc.edu		    email: sekhar@hpl.hp.com
Phone: 608-262-1204                 Phone: 415-857-4366
Fax:    608-262-9777                Fax:     415-813-3381

Program Committee:

Fred Douglis, AT&T Labs -- Research
Peter Druschel, Rice University
Geoffery Fox, Syracuse University
Mike Franklin, University of Maryland
Dennis Gannon, Indiana University 
Jeff Naughton, University of Wisconsin
Praveen Seshadri, Cornell University 
Duane Wessels, National Lab for Applied Networking Research
Philip Yu, IBM Watson research

---