Interests
Canoeing in Canada and kayaking on Lake Superior are my favorite places to paddle.
Who doesn't want to be cowboy or cowgirl at some point. I like to go trail riding, camping, and barrel racing.
Computers are both a hobby and a profession for me. My main interests lie in software development.
Welcome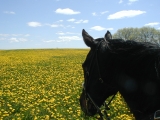 Welcome, I'm Jerry Champeau and here you will find out a little about me.
Unfortunately there isn't much here yet, but I will be adding more details and photos as time permits.
This photo is dedicated to my old companion, Shadow. Thought I stand in the light, my Shadow is gone...