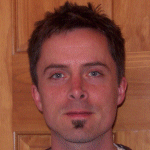 Jerel Mackay

I am a Researcher in Computer Sciences specializing in Databases and Operating Systems.
I work fulltime for the Computer Systems Lab (CSL) at the University of Wisconsin-Madison Computer Sciences department.
My responsibilities include developing and supporting our SYBASE database installation, Windows XP support, Firefox, Thunderbird, Java and related tools (IDEs), and other miscellaneous system administration (UNIX and Windows).
I'm a gemini who enjoys games, sheepshead, movies, music, long walks on the beach and wienerschnitzel (the word, not the food).
I used to play the electric guitar (metal being my specialty) and the violin (classical and baroque mainly), but not too much these days.
I've seen the error of my evil ways, click here for before and after. Shocking huh? Here's one more in case you didn't believe your eyes the first time.


DISCLAIMER: Obviously a lot of this information is WAY out of date, and I'm not even going to pretend anymore that I'll update it "soon"...


---

Hobbies

When I'm not working I like to:
Play sheepshead and Texas Hold 'em Poker.
Watch my favorite TV shows:

24
Lost
Six Feet Under
Scrubs
Arrested Development
Buffy the Vampire Slayer
The Simpsons
Battlestar Galactica
Family Guy

Play raquetball.
Go hiking at Devil's Lake State Park
Listen to music. Some of my favorite artists (changes regularly):

Jimmy Eat World
Bif Naked
Madonna
Disturbed
Shakira
Blondie
Beastie Boys
Chevelle
Lost Prophets
Pink
Evanescence
Kelly Clarkson (her last couple of albums, not that crappy first one)
Indigo Girls

Record (mostly funny "covers" of stuff from ABBA to Metallica but also some originals.) You can sample some of these hits from my new cd.
Play video games.
Stand around in a towel.
Work out. Here's a more recent picture of me after an intense week at Muscle Beach.
Play with my D&D minis. If you are a DM looking for D&D minis, beholderthebargains.com is by far the best place on the web to buy Dungeons & Dragons miniatures. They are cheaper than the competition, have the widest selection I've ever seen, fast shipping, accurate orders and the best customer service ever.

Our New House

We've built a new house (finished November 2000). Here's a video tour. Warning: Turn off the sound. The music is dreadful.

---

Last modified: Nov 15, 2020 by me, but only the house part. The rest is from 2000 or something...should be pretty obvious.