The Great Room Entertainment Center
---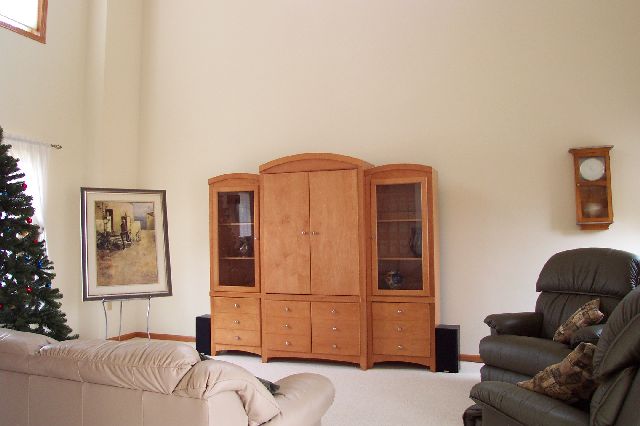 Description
This is the 2 story great room. We've finally done some furnishing/decorating. This picture was taken around Jan 10, 2002 (hence the Christmas tree) with our new Kodak DC4800 digital camera (thanks Mom, Dad, Warren and Step-mommy). It was taken without flash and with a long exposure time (hence the blurred pendulum in the wall clock).

The maple entertainment center with brushed nickel knobs matches the cabinets in the house. You all know how important that is... (insert eye roll here) :) It's made by Progressive Furniture. We are slowly filling the pier cabinets with knick-knacks (patty-wack, give the dog a bone).

But seriously, it's getting pretty homey. The artwork is by D. Lorenco. We have another similar piece in the loft. It's kinda funky. If you want a really big full-size image so you can see the artwork better click here.

We also have 2 new leather Lazy-Boy recliners. They are very comfortable and our lazy asses are expanding exponentially as a result. We've also added surround sound and a DVD player to our entertainment center, so please come and plant your lazy ass in our recliners and watch a movie with us.
Back to
Jerel's home page
Last modified: Thu Dec 7 11:53:22 CST 2000 by Jerel L. Mackay