The effect of camera overhead on multi-image denoising performance:
The performance of multi-image denoising as the camera overhead varies (top curve). The horizontal lines at the bottom and in the middle indicate the PSNR of single image deblurring using a weak prior and a strong prior respectively. Multi-image denoising performs better than single-image deblurring, even when the camera overhead is 90%.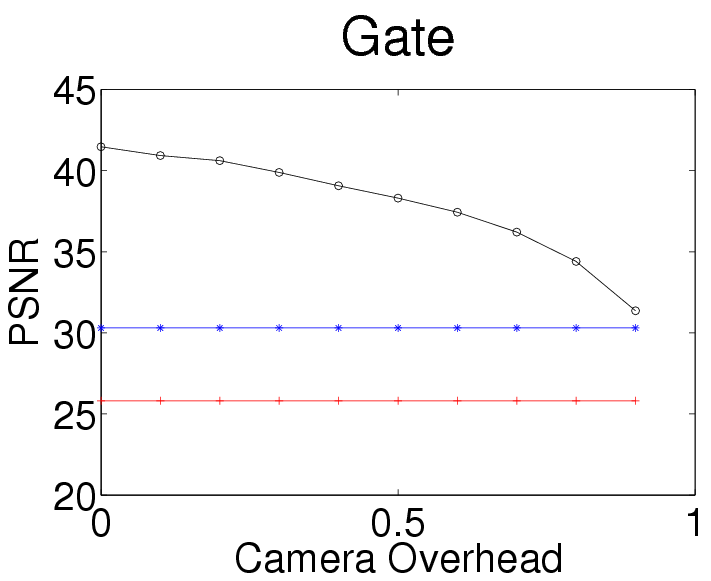 Multi-imag denoising result PSNR vs camera overhead
The following images show the results of multi-image denoising as the noise standard deviation increases with the camera overhead. These images correspond to the 10 data points on the curve in the above figure.
| | |
| --- | --- |
| | |
| Denoising result for overhead 0.0, noise std = 20 | Denoising result for overhead 0.1, noise std = 21.08 |
| | |
| Denoising result for overhead 0.2, noise std = 22.36 | Denoising result for overhead 0.3, noise std = 23.90 |
| | |
| Denoising result for overhead 0.4, noise std = 25.82 | Denoising result for overhead 0.5, noise std = 28.28 |
| | |
| Denoising result for overhead 0.6, noise std = 31.62 | Denoising result for overhead 0.7, noise std = 36.51 |
| | |
| Denoising result for overhead 0.8, noise std = 44.72 | Denoising result for overhead 0.9, noise std = 63.25 |