Welcome to Josh's Homepage
You've reached the homepage of the guy in the world...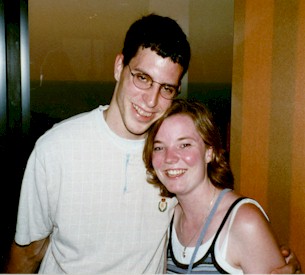 ...and here's the reason why.
---
A little bit about me:
My name is Josh Mayer and I'm a junior at the University of Wisconsin-Madison. This semester I'm taking organic chemistry, Biocore (super-hard biology), statistics, and 3 computer science classes over the internet. It's been almost two months since I became the luckiest guy in the world, and all because the most wonderful, most amazing, most incredible, and most beautiful girl in the world sees something worthwhile in me. Thank you God!
---
Slightly more about me...
I have many hobbies, but alas, most of them take a backseat to homework during the school year. Here are the things I enjoy most:
driving long distances, particularly to Minnesota
---
Class Schedule
Here's where you'll find me at various times throughout the day:
Monday
Tuesday
Wednesday
Thursday
Friday
8:50
Biocore 301
Biocore 302
Biocore 301
Biocore 301
9:55
Statistics 201
Statistics 201
Statistics 201
11:00
Chemistry 343
Chemistry 343
Chemistry 343
12:05
CLC
1:20
Biocore 302
Statistics 201
2:25
CLC
Biocore 301
3:30
4:35
CLC
*denotes Chemistry Learning Center
---
Favorite Things
Just a few:
---
Here are some other cool pages:
Click above to learn all about my musical interests.