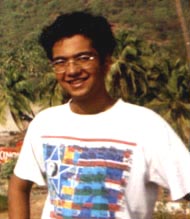 On the 23rd day of May, 1981, fate played a cruel joke with the earth. Ever since, I've made sure it hasn't regretted its decision

So here I am, destiny's child! Anywayz, I'm a grad student majoring in Computer Science at the University of Wisconsin-Madison. It's a real COOL place.... the best place to be in!

I hope you like this website! You will find loadz of stuff on music.. coz music is what I am! I like ROCK.. actually bands like Metallica, Nirvana, Deep Purple, Black Sabbath, Judas Priest, Alice In Chains, Guns 'n Roses, Pink Floyd, Kiss, Aerosmith, Diamond Head, etc. are among my favourite bandz.