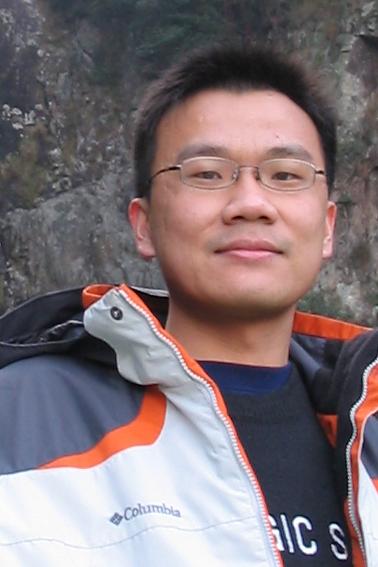 I have defended my PhD thesis "On Indexing Text Documents for Fast Evaluation of Regular Expressions". I work for LinkedIn Corp now. I was a PhD student in the database group in the CS Department of the University of Wisconsin, Madison. My advisor is Prof. AnHai Doan. I got my Bachelor and Master of Science in Computer Sciences from School of Computing, National University of Singapore. Here is my resume [ps].
Contact Info:

Research
Information Extraction [We study how to apply database techniques like indexing, efficient query processing to manage information extraction processes...]

AnHai Doan, Jeffrey F. Naughton, Akanksha Baid, Xiaoyong Chai, Fei Chen, Ting Chen, Eric Chu, Pedro DeRose, Byron J. Gao, Chaitanya Gokhale, Jiansheng Huang, Warren Shen, Ba-Quy Vuong: The Case for a Structured Approach to Managing Unstructured Data. CIDR 2009

Jiansheng Huang, Ting Chen, AnHai Doan, Jeffrey F. Naughton: On the provenance of non-answers to queries over extracted data. PVLDB 2008

Eric Chu, Akanksha Baid, Ting Chen, AnHai Doan, Jeffrey F. Naughton: A Relational Approach to Incrementally Extracting and Querying Structure in Unstructured Data. VLDB 2007

XML Query Processing [We investigate the application of a novel join technique called Holistic Twig Join to process XPath query on XML data]

Ting Chen, Jiaheng Lu, Tok Wang Ling: On Boosting Holism in XML Twig Pattern Matching using Structural Indexing Techniques. SIGMOD Conference 2005

Jiaheng Lu, Tok Wang Ling, Chee Yong Chan, Ting Chen: From Region Encoding To Extended Dewey: On Efficient Processing of XML Twig Pattern Matching. VLDB 2005

Programming Language/Embedded Program Analysis [We applied statistical and static analysis on program codes to detect bugs or improve the performance]

Piramanayagam Arumuga Nainar, Ting Chen, Jake Rosin, Ben Liblit: Statistical debugging using compound boolean predicates. ISSTA 2007

Vivy Suhendra, Tulika Mitra, Abhik Roychoudhury, Ting Chen: Efficient detection and exploitation of infeasible paths for software timing analysis. DAC 2006
Database related blogs and stories
Personal
Sports is always part of my life since I was a kid. Currently I play tennis regularly and enjoy jogging/weightlifting when it rains. I also like sailing thanks to the great Lake Mendota and UW's hoofer sailing clubs.