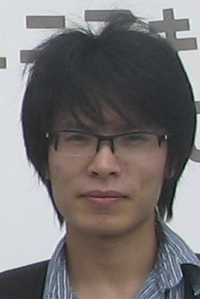 Ji Liu
Graduate Student, Optimization
Department of Computer Sciences and Wisconsin Institute of Discovery
University of Wisconsin–Madison
1210 W. Dayton St. Madison,
WI 53706-1685
News
SIAM conference on optimization: Present our work ``Asynchronous Parallel Stochastic Coordinate Descent'' in San Diego, May, 2014
Two first author papers are accepted in ICML 2014.
Who Am I?
I am currently the fourth year PHD student supervised by Stephen J. Wright in the Department of Computer Sciences of University Wisconsin-Madison. Before joining UW, I learned from Jieping Ye and Peter Wonka and obtained my masters degree in Computer Science at Arizona State University. My current research interests include optimization, machine learning, and their applications in computer vision, data mining, biomedical image analysis, bioinformatics. I will join the University of Rochester as an assistant professor of computer science in Aug. 2014!!! I am looking for strongly motivated PhD students to work with me.
Education
B.S., Automation (major) and Business Administration (minor), University of Science and Technology of China (USTC)
M.S., Computer Science, Arizona State University (ASU)
Research Interests
Optimization (asynchronous parallel methods for big data applications, large scale problems, first order algorithms, stochastic algorithms)
Machine Learning (compressed sensing theorytensor completion, tensor decomposition, multi-tasks learning, reinforcement learning)
Computer Vision (spectral clustering, abnormal event detection, online metric learning, dictionary learning, image segmentation, image inpainting)
Honors
Honorable mention of the best research paper in KDD, 2010
ICML Scholarship, 2013
NIPS Travel Grant, 2010
PAMI TC Travel Grant, 2009
Grade 3, National Graduate Mathematical Contest in Modeling, 2007
First Prize, Mathematics Contest in Modeling of Northeast China, 2007 (7/2000+)
Excellent Student Scholarship, Chinese Academy of Sciences, 2007
Graduate Fellowship with Honor, Chinese Academy of Sciences, 2006
Outstanding Students Scholarship, USTC, 2003, 2004
Reviewer for
SIAM on Optimization (SIOPT)
Mathematical Programming (MP)
NIPS 2013, 2014
IEEE Transactions on Pattern Analysis and Machine Intelligence (T-PAMI)
IEEE Transactions on Information Theory (TIT)
Numerical Algorithms (NUMA)
IEEE Transactions on Signal Processing (T-SP)
IEEE Transactions on Neural Networks and Learning Systems (T-NNLS)
IEEE Transactions on Knowledge and Data Engineering (T-KDE)
Computer Vision and Image Understanding, Elsevier (CVIU)
Neurocomputing
Digital Signal Processing, Elsevier (DSP)
International Journal of Engineering, Science and Technology (IJEST)
Invited Talks
Shenyang Institute of Automation, Chinese Academy of Sciences, Shenyang, China, Dec., 2011
INFORMS Optimization Society, Conference, session "Algorithms for large-scale structured optimization and applications", Houston, Mar. 2014
Symposium on Coordinate Descent Methods @ SIAM Conference on Optimization, San Diego, May, 2014