Timothy Bahls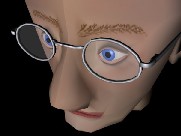 I am a Computer Science grad student at the Univesity of Wisconsin-Madison. I'm happy to be a teaching assistant for the Introduction to Programming course. You can find my current page for the class. You can email me at gladius [AT] gmail [DOT] com
By the way, be sure to vote for Obama

(If you want details, email me)
---
Amazing Games

CleanBot7: An excellent top down robot adventure game.

Squash Pit: Blob fighting. Play this.

Bellipax: An excellent Java Realtime Strategy Game
Finished Games

Yikes in Yellowstone: A platform jumping game.
RPS RTS: Rock Paper Scissors Real Time Strategy.
Nick's Catcher Game: Green square good; Red square bad.
Tricky card Game: A card game based on an Intro to Comp Sci program.
Fire Balls: Keep them hot potatoes in the air.
Chase: No shame in running.
Manacala: AI so mean it can trash you three times in one go.
Space Death 2: A space invaders game I made after my Intro to computer science course, which I continued to improve over the summer.
Frogger: Based on that old school game--not much fun.
Game Books: Choose Your Own Adventure books by my students.
Partial Games

Zipper:A spinning rainbow-beam-shooting ball.
Brick Smack: Bouncing red block destroys blue blocks.
Space Game: Design and purchase your own ships and command them in battle against your enemy.
Pushing puzzle: Can you solve these three ill-documented puzzles?
Tunnel: Dodge shapes in two directions.
SpaceBalls: Want to learn Java game programming? Try here--a well documented java program.
Toys

Misty forest: Stochastic tree fractals in the mist....
Rainbow Paint 2: A drawing program made for my sister. Over twice as cool as Rainbow Paint.
Logic Gates: The building blocks of computers.
The Mandelbrot set: The fractal so beautiful and complex it makes you cry. Now with excellent colors.
Sort Animations: can you ever get enough?
Fireworks: Cool Java explosions.
Cellular Automata: A fun swirly blue color thing from a semi-obscure branch of mathematical computer science.
Tie Dye fun: Rainbows everywhere!.
Poetry Generator: Who says computers can't write poems?
Rainbow Paint: A drawing program made for my fiancee. Not half as cool as Rainbow Paint 2.
Not Games, but still cool

3D Animations: Some physics and computer science animations
Physics Applets: Demonstrations and visualizations.

Vision final project: Some informal research.

Mondrian Motion: Some formal research.

---
This site has plenty of unorganized files. Browse if you wish--you can probably get the source code of any games you want. You can access them here. You can also find my bigger (but uglier?) site here
UW Madison >> CS department >> Tim's website