<![if !vml]>

<![endif]>

| | |
| --- | --- |
| | Day 1 Dublin - Wexford - Cork - Blarney |


The Beautiful Irish Countryside.


Photo stop number one of many, many more.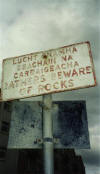 In Ireland the people speak both English and Irish Gaelic. So most signs are posted in both, or at least in Gaelic.
| | |
| --- | --- |
| | Day 2 - Blarney - Killarney - Dingle - Limerick - Portlaoise |



In Blarney we stayed at a Bed & Breakfast, from where you can see the whole town of Blarney.


They guys by the Castle and Badgers Cave.


Me kissing the Blarney stone at the top of the castle.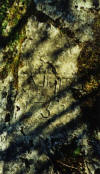 Walking around in the Gardens taking pictures and little 18th century graffiti.


Dan and Aaron in front of a beautiful view.

On of the many little towns, this is Dingle.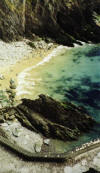 Another beautiful cove along the coast.

James, Adam, Aaron, and Dan in front of our Opel Astra.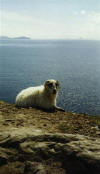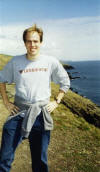 Another photo stop. This time a sheep stayed for the pictures.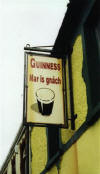 Guinness - Mar is Gnach.
| | |
| --- | --- |
| | Day 3 - Dublin and back to London. |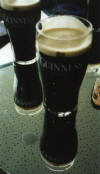 The Guinness factory. What a cool place, and what a great pint.

Dublin.

After walking an hour through the industrial park to get to the ferry port we happened upon this sign. Dan exclaimed that this must be a 'No, motorcycles jumping over cars zone', we all agreed. What a crazy country.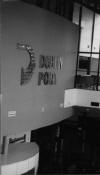 After a long hike we reached the Dublin Ferry port. So it deserved a picture.

• Home • Life in London • Life Around London • Weekend in France • Spring Break • Ireland Weekend • 11 Days in Europe •
Last Updated: Saturday, 18 May 2002