<![if !vml]>

<![endif]>

| | |
| --- | --- |
| | Rome, Italy |

We have arrived in Rome. Marissa, Jenny, Emily and Erica pictured.




It is the Vatican City and St. Peter's Basilica.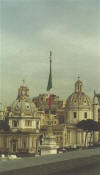 The Monument to the first king of United Italy.
| | |
| --- | --- |
| | Venice, Italy |

Jenny, Emily, Erica and I took a Gondola ride.

The Rialto Bridge.

Jenny, Erica and I with the Grand Canal behind us.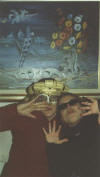 A little Venetian fun.
A boat parade through the city.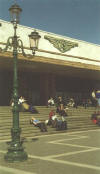 Waiting at the Venice Train station.
| | |
| --- | --- |
| | Florence, Italy |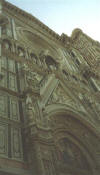 The Doumo in Florence. Made from three different types of Marble.

A view of the city of Florence from the top of the Doumo.

Jenny, Lauren, Arwen, Myself, Marissa and Emily on top of the Doumo.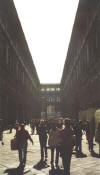 The Uffizi Museum.

The Ponte Vecchio Bridge.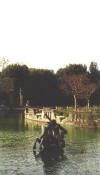 In one of the Gardens of Florence.
| | |
| --- | --- |
| | Pisa, Italy |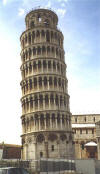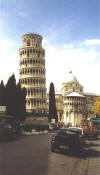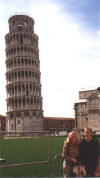 Known primary just for its leaning tower, so here it is. Also picture is Lauren and I.
| | |
| --- | --- |
| | Athens, Greece |




Views of the Acropolis and surrounding ruins.

The Parthenon on top of the Acropolis.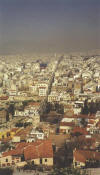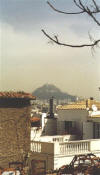 Views of Athens. A little Smoggy.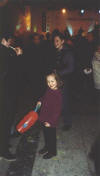 Carnival time in Greece!! Being that it wasn't lent yet in Greece it was party time.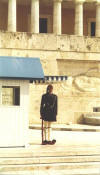 The Parliament building in Athens and the guard.


We went on a 3 island tour of Greece. They all looked pretty much like this, beautiful.
| | |
| --- | --- |
| | Rome by Air |

On my way back to London, I passed over Rome on more time. You could see everything It was amazing.

• Home • Life in London • Life Around London • Weekend in France • Spring Break • Ireland Weekend • 11 Days in Europe •
Last Updated: Saturday, 18 May 2002